"The Body Support gives me great flexibility to move around the house"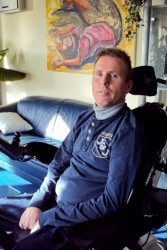 Jeroen Fokke, Amsterdam/The Netherlands
Forty year old Jeroen Fokke from Amsterdam has been an MS patient for more than 10 years. Thanks to a ceiling lift with the Surehands® Body Support from Handi-Move, installed in his home by Tiltechniek, Jeroen is able to live independently. "The Body Support gives me great flexibility to move around the house," says Jeroen. "My parents are also enthusiastic about this solution."
Handi-Move designed a special Body Support with soft padded leg straps for Jeroen Fokke, a former furniture maker who, as a result of MS, is bound to an electric wheelchair. "It allows me to comfortably and independently move between my wheelchair, bed, toilet and bath. The two sides that grab you around your waist make you feel safe which is a must for my intensive use. I have a separate ceiling lifting system in the bedroom and bathroom," says Jeroen. The lift system can be used for multiple purposes, for example, for his physiotherapy sessions at home, the ceiling lift will lower Jeroen onto a mattress on the floor.
"My parents and homecarers are a huge support, though I'm often on my own in the evenings. The benefit of the Surehands® Body Support is that I can easily fit it myself. I use the system many times throughout the day, so it must be reliable. "The Body Support has given me great flexibility to move around the house which has made me extremely happy. I couldn't be without the lift system anymore," says Jeroen Fokke decisively.