Which lifting system should I choose that is appropriate for professional use?
Use the Handi-Move 15 criteria checklist.
The purchase of a lifting system (rail system or mobile solution) for professional use in care centres should be made on the basis of objective criteria regarding ease of use, choice, efficiency, lifetime, quality, cost of use and the supplier.
Do the test yourself and compare with Handi-Move's lift systems.
1. Supporting the body: can it be a bit more?
Handi-Move provides comfortable solutions suitable for each situation or user. A broad range of 2 to 4 point spreader bars. Lifting while lying or sitting. Slings with loops in various sizes, models and materials. Tailor-made if necessary and at an affordable price. Or do you prefer the Handi-Move Body Support® instead of a sling? We offer you the possibility of alternately implementing different solutions on the same lift.
2. A solution for every lifting problem?
Handi-Move guarantees a solution for every lifting problem, both passive and active, fixed and mobile: we have a complete range available. For example, rail systems with all possible options such as a traverse rail system (X-Y or H assembly), points, wall to wall rails... Is a mobile solution a better choice in certain situations? Our passive lifts or the active patient lift will certainly provide you with the best solution.
3. How much do you save with a faster lift?
Waiting costs time & money, speed means saving. The faster you lift, the faster you finish. Did you know that by saving time you can save up to 7,000 euros on a single lift? Look and compare. The type '2800' Handi-Move ceiling motors and the professional passive lifts are the fastest on the market.
4. Guaranteed service life?
Often, the expected lifetime of a lifting system is expressed in number of years or number of cycles (lifting cycle when lifting a maximum load). The most common is 5 or maximum 10 years or 20,000 cycles. The type '2800' Handi-Move ceiling motor for instance has a guaranteed service life of 15 years regardless of the number of cycles.
5. Use of premium materials/parts?
Handi-Move always goes for the best quality. No expense is spared. The ISO 10535 standard imposes an endurance test of 10,000 cycles on manufacturers. Handi-Move performs 100.000 cycles. This way, only durable and high-quality materials are retained. Handi-Move makes a difference on several levels. Among other things, the safety factors are much higher, the batteries have a longer autonomy, IP ratings are higher (moisture protection classes), gear wheels are made of quality steel (42CR Mo S4V) instead of plastic, and more ergonomically due to lower rolling resistance, etc
6. Cheaper is expensive?
This expression is certainly appropriate here. Often, an initially financially interesting purchase is cancelled out in the course of the following years by more expensive (mandatory) maintenance contracts, spare parts and/or technical interventions. Or even by an early unexpected replacement. Did you know that 1 year longer in use is already the equivalent of 10% discount on purchase?
7. Trainings?
When the lifting system is put into operation, your Handi-Move adviser will provide training in its use. Training for your technical staff is also possible. Without any cost! This way, you can make certain repairs yourself if necessary.
8. Timely mandatory replacement of parts?
This is not the case with Handi-Move With a no-obligation "annual inspection contract", you can have the condition of the device checked. This keeps your lift system in optimum condition, which in turn benefits its service life.
9. Replacement parts and technical interventions?
Handi-Move guarantees parts and technical interventions throughout the life of your device and for at least 10 years after the production of your model has ceased. Handi-Move does not give you surprises.
10. Made in Belgium?!
Development, production, sales and service: the Belgian company Handi-Move has been doing it for 40 years. Own production with a focus on innovation, quality, safety and service.
11. Shoemaker stick to your last?
Handi-Move has made a conscious decision to specialise in lift systems. Thanks to our advisers worldwide, we have a lot of expertise. We are happy to share this with you. Our R&D department translates our know-how into innovative products in terms of use, maintenance and product technology. All in accordance with the imposed standards and laws regarding medical devices. Handi-Move follows the standards of the American Food and Drug Administration.
12. Customised solutions?
Handi-Move's advisers are experienced and receive support from their own engineering team. Thanks to our own production facilities, customised solutions are no problem at all.
13. Guarantee?
Handi-Move offers a 2-year guarantee.
14. Your personal adviser?
Your Handi-Move consultant is your single point of contact throughout the course of the project. He will advise you objectively and, after an analysis, find together with you, the best lifting solution, taking all parameters into account. He will provide you with all the details and make a comprehensive offer without obligation. In the future, you can always contact him for extra lifting advice, an adjustment, a lifting sling, etc.
Download the pdf of the checklist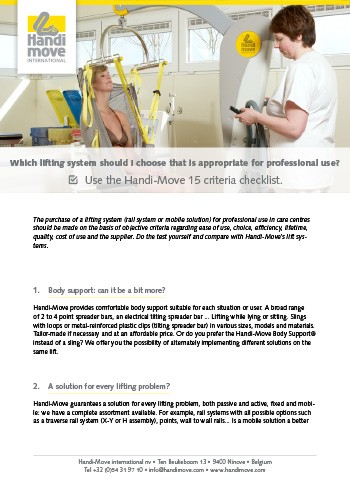 Want to see and test our lifts in the showroom at Ninove? Make an appointment for a guided visit.