Reliable quality "Made in Belgium"
"Our quality is based on the best components and thorough testing, which enables us to develop reliable products.
Handmade with care, in Belgium."
Stefan Van Raemdonck, CEO Handi-Move International
Quality management
"As the person responsible for Quality Assurance and Quality Management Systems I make sure that everyone at Handi-Move is aware of quality. Specifically, I draw up the necessary procedures, checklists and reports, and I analyse complaints and non-compliant products. If there is a problem, we look for the causes and how to prevent them. Each product is made according to the instructions prescribed during the design phase. We can also demonstrate this to the competent authority."
Paul Pintelon, quality manager at Handi-Move International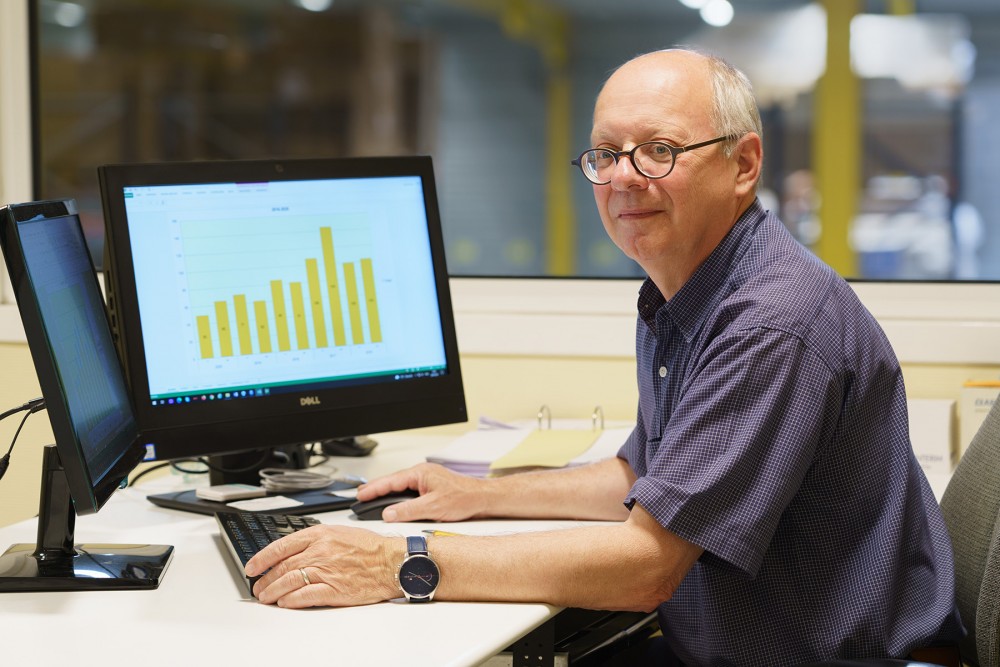 Long service life
"Since Handi-Move produced its first ceiling lift motors in 1989, our mission has been durable and reliable quality. We use the best component parts that are extensively tested. Of the first series, thousands are still in use worldwide. So Handi-Move's lift systems are a good investment because of their durability. Our quality is based on thorough testing, which ensures a long service life."
Frank Peeters, Export / Procurement consultant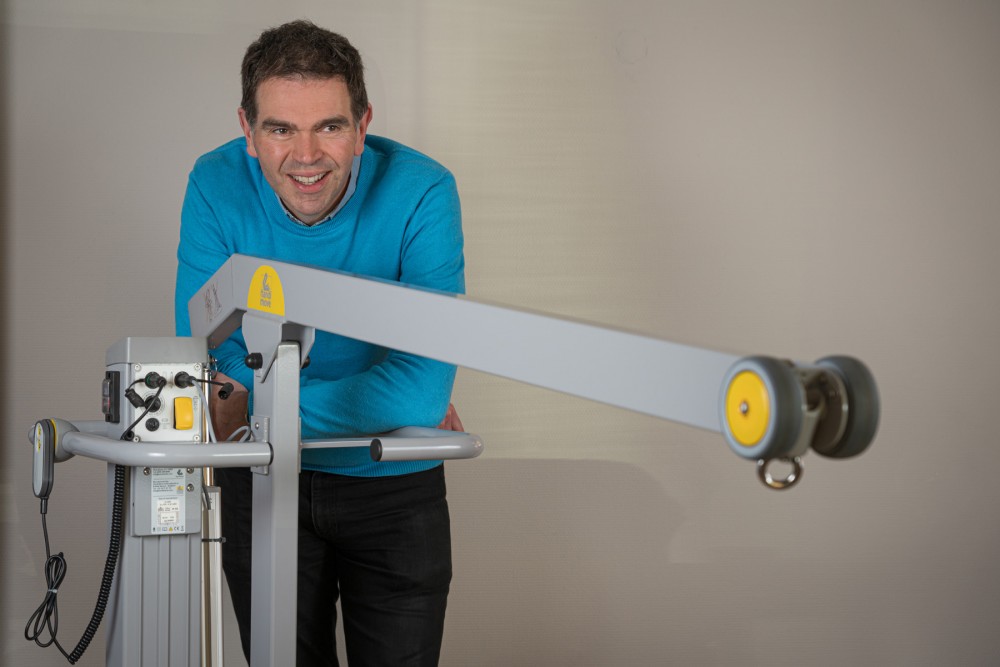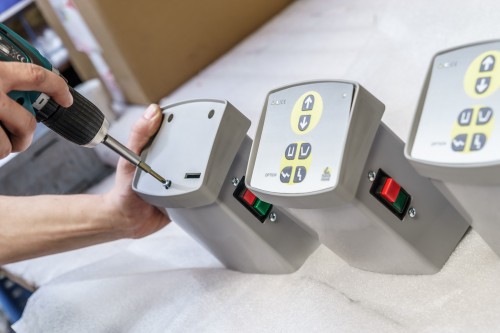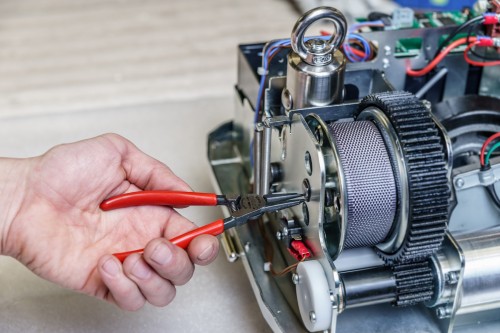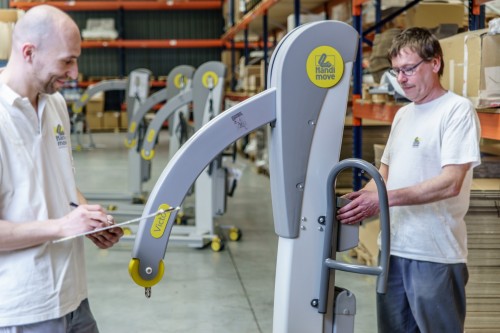 Own production
"Our lift systems are made at our site in Ninove (Belgium) and not in low-wage countries. Working ethically is important to us. Our lifts are made with care. The Handi-Move production department is managed by trained and experienced professionals."
Filip Vercruysse, head of production Handi-Move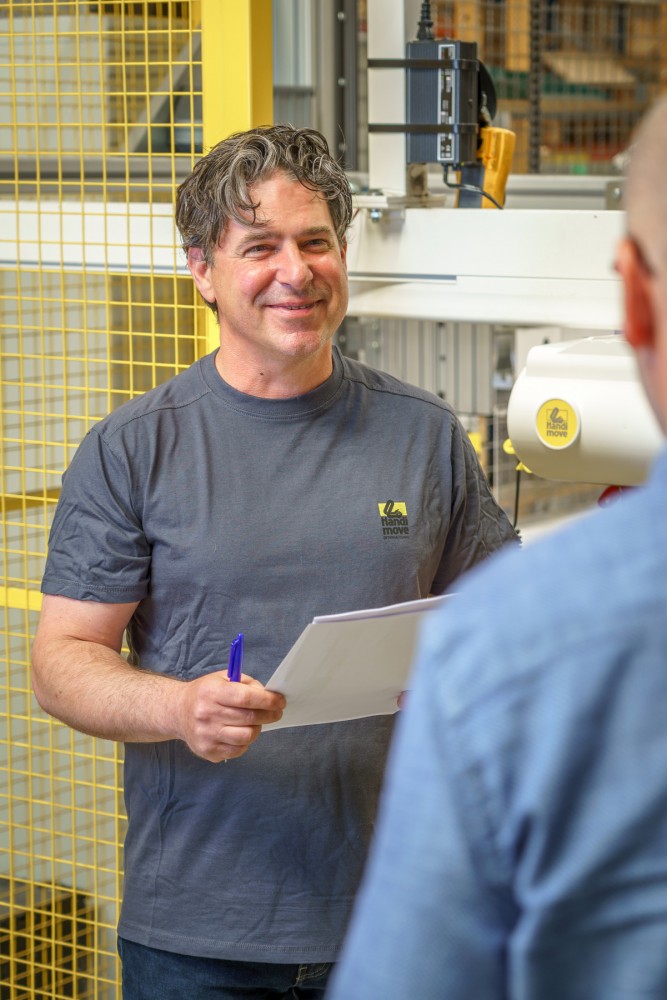 High quality standards
"Every lift system that leaves the factory meets a wide range of quality standards. All devices are thoroughly tested during assembly before they reach the customer. All test protocols are recorded. We use the best component parts that are extensively tested. Certain components and materials are purchased from selected quality suppliers, but the essential processing as well as the production of the core components is done entirely in-house. This permanent quality is ensured by a team of enthusiastic technicians and (quality) staff."
Jurgen Vandenbossche, Quality Control Manager, Handi-Move Production Department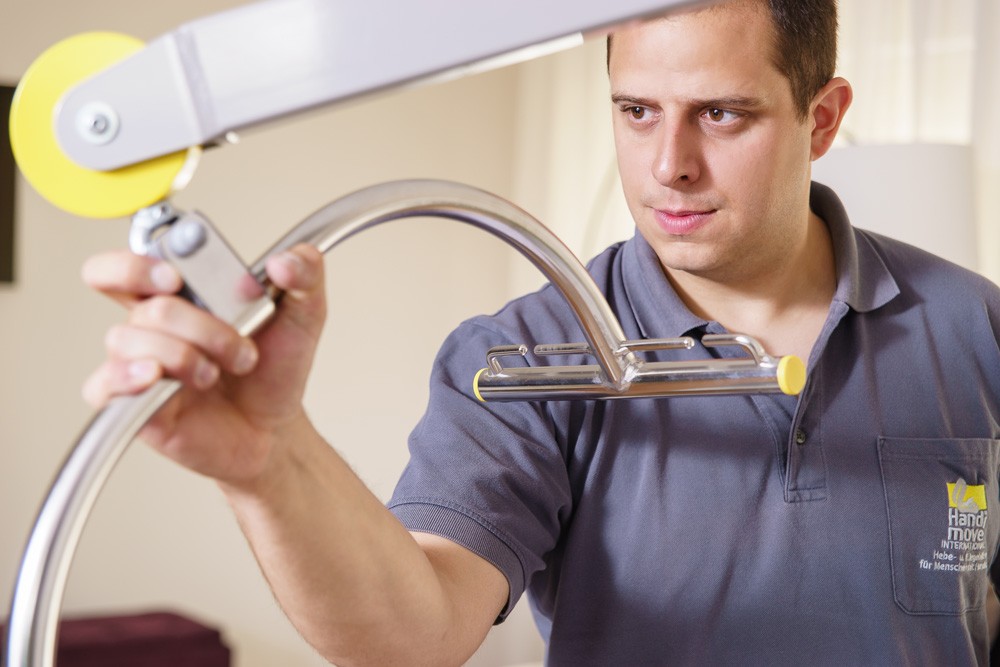 Well-conceived production process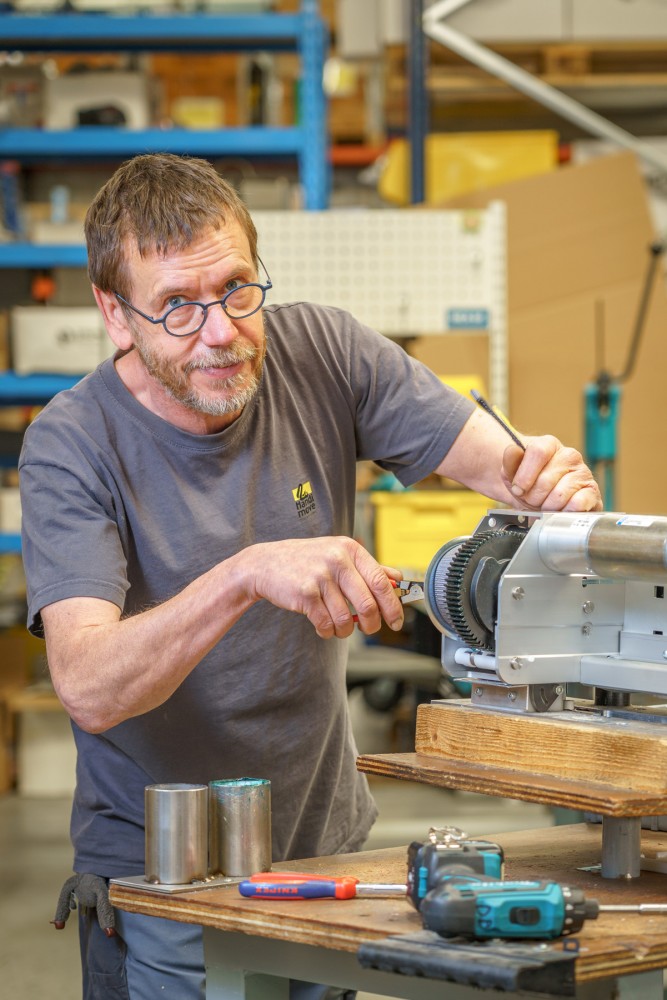 "Only after thorough training is a permanent team allowed to carry out the manual assembly of the ceiling motors, following a strict production process with numerous test protocols."
Kris De Troyer, ceiling motor technician and specialist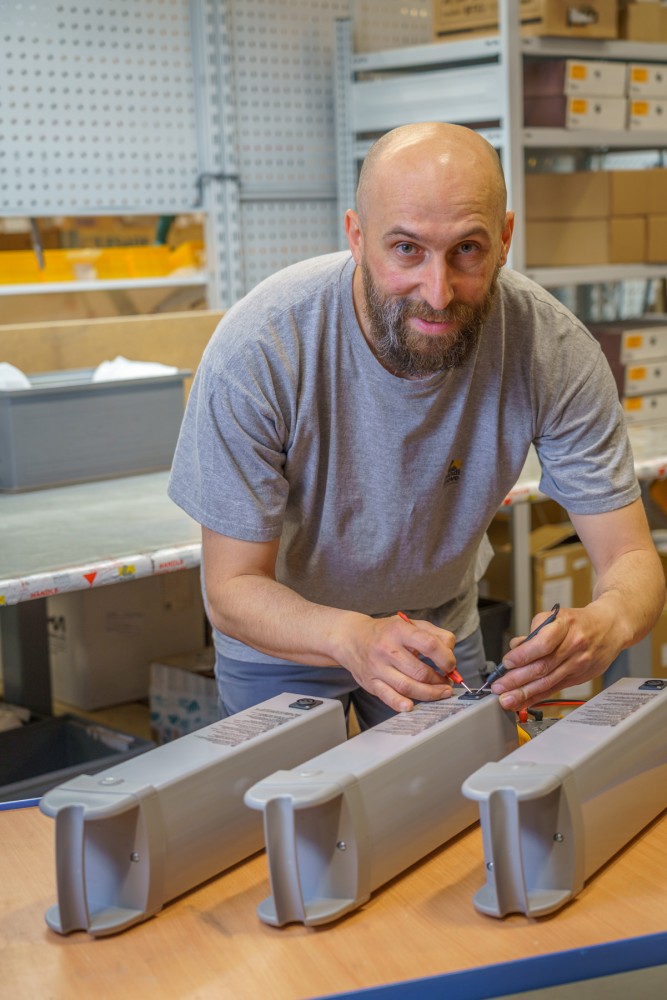 "The Victor lift is assembled from A to Z at a single workstation with a single responsible person."
David de Villaer, Victor lift and track-to-track motor technician and specialist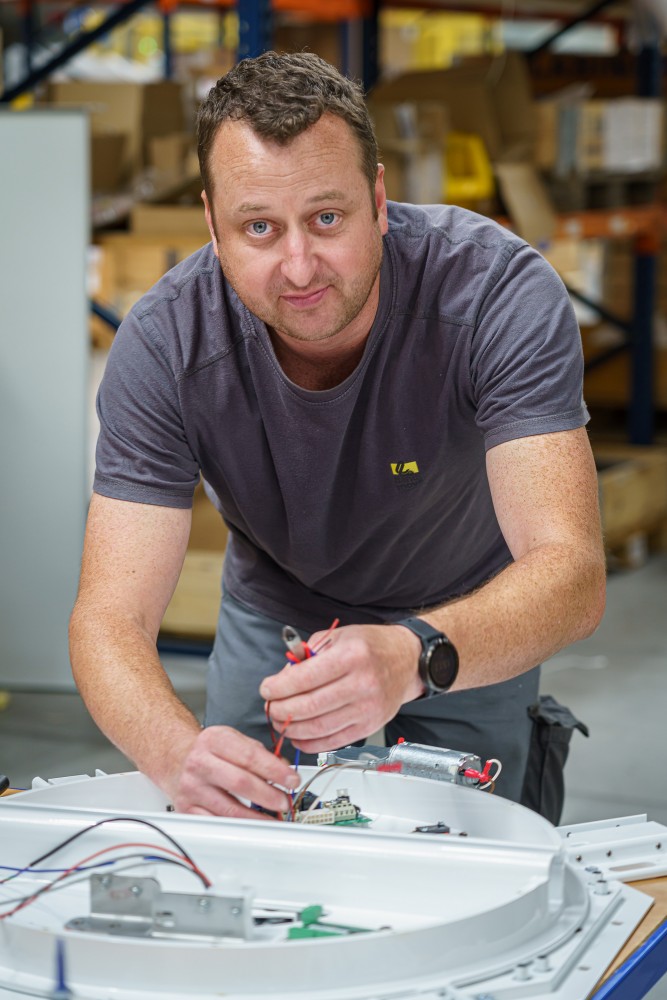 "The new turntable is easy to install at the customer's site due to its clever design."
David Baetens, ceiling rail system turntable technician and specialist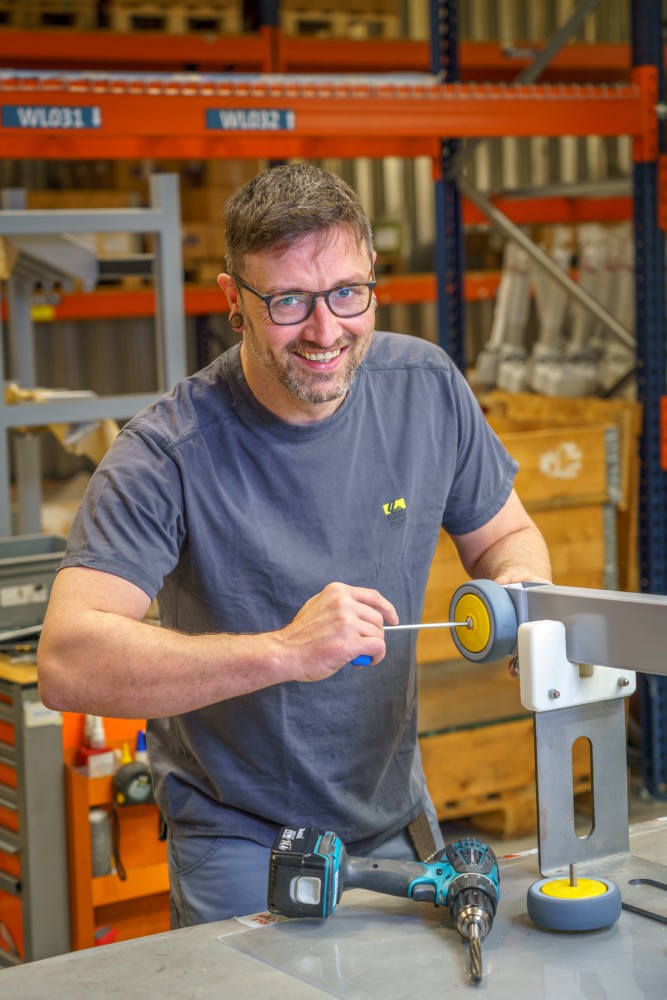 "The smart design of the lifts allows us to avoid errors during assembly."
Gerrit Goutswilders, pool and wall lift system technician and specialist
Modern machine park
"We use state-of-the-art machines to produce lifting equipment that works at peak performance, such as the Mitutoyo measuring machine. With this precision measuring equipment in an air-conditioned measuring room, the measurements of our parts are carried out with extreme precision, without deviations due to expansion or contraction caused by temperature fluctuations. Important for the quality of our ceiling motors chassis."
Jurgen Vandenbossche, Quality Control Manager, Handi-Move Production Department