"My SureHands lift is the greatest thing since sliced bread"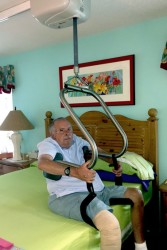 Walter Drake, Vietnam Veteran, Active Duty Injury, MS (USA)
I have been using a SureHands Lift & Care System for over 20 years, in Connecticut and now in Florida, and it is by far the best lift system out of any of them! The Body Support picks me up so I can move with a lot less work than a sling. A Palm Beach Fire & Rescue worker recognized the difference and told me he thought it was the best system he had seen.
My wife Barbara benefits from the SureHands system, too. She says that not having to lift me is great for her back. She can get me out of bed, and because the track goes through the house using turntables, she takes me right to the toilet, the shower, and my recliner. She says it's so easy! Our home health aide also appreciates how safe and easy transfers are done with the SureHands lift system. All those who see it are amazed because it blends in with the ceiling and looks like it belongs.
We have a long history with SureHands. We even met the owner of Handi-Move from Belgium, and of course, we asked him "where's the beer?". The people at SureHands have always been wonderful. When we call for technical advice they call back 1-2-3 and are very helpful. Our representative, Shane, knows that if someone wants to hear from a SureHands customer we are happy to tell them how the system could work for them. The VA has also been helpful by purchasing new equipment and service when it was needed.
Our SureHands lift makes a difference every day. We love the product and we recommend it highly.