"The two Handi-Move pool lifts are used extensively"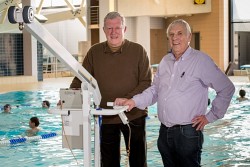 Lucien De Bels & Carlos Van Lauwe from SOMIVAL, Waregem/Belgium, March 2013
Non-profit organization SOMIVAL (Sport and Relaxation for Disabled People) from Waregem, Belgium, is a sports club for people with a disability or reduced mobility. SOMIVAL offers several activities such as athletics, wheelchair hockey, boccia, horse riding and swimming. The latter takes place in the swimming pool at sports center De Treffer. To allow smooth and easy access into the pool, the club uses two Handi-Move mobile pool lifts. Lucien De Bels and Carlos Van Lauwe, both committee members of the non-profit organization, are delighted with the equipment.
Lucien De Bels: "Ten years ago, the town of Waregem not only invested in a pool lift but also redesigned access to the recreational pool and the changing rooms. This gave fresh impetus to the whole swimming experience. Five years later, due to its extensive use,  the club purchased a second lift. Nowadays, approximately 120 swimmers turn up at De Treffer every Saturday morning. Around 10 of them wouldn't be able to access the pool safely if it wasn't for the lifts. They are effortlessly lifted in and out of the water from their wheelchairs without putting any physical strain on the carer.
Carlos Van Lauwe: "Other organizations also use our Handi-Move swimming pool lifts with SureHands® Body Supports thanks to their ease of use. Moreover, Handi-Move provides excellent service. A recent battery problem was fixed in no time. We haven't had to miss one Saturday yet!"
"A sling is available for people with a more serious disability. We like to have all aids available, even if only one person enjoys the benefit. The success of SOMIVAL is a combination of people and resources. Carers can use suitable equipment. Every Saturday, we create a social event in a family atmosphere and new people keep on joining us," according to Lucien De Bels.
Carlos Van Lauwe has also been using a Handi-Move lift system at home for nearly 20 years, for his son Thierry. A Wall-to-Wall™Lift with SureHands® Body Support is installed in the bathroom to lift Thierry onto the toilet and into the bath. "In all that time, the wall lift has only malfunctioned once."
SOMIVAL also uses a Handi-Move lift system for horse riding activities. The rail system with HM2500 series motor and SureHands® Body Support is used extensively.