"You've given me my life back."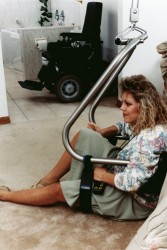 Sandy Holden, SCI C5/6 Quad, independent user (USA)
It's so nice not to have nurses come in to take care of me anymore… all because of my SureHands® lift system. And, yes, I'm still taking showers for as long as I want even though it's been seven years since I purchased my lift. Recently I calculated the amount of money I have saved in nursing costs since I got my lift. It's approximately $250,000. Keep in mind this does not account for inflation; I'm sure they make far more now!!!
My lift was installed on the ceiling over my bed and runs into my bathroom so I can toilet and bathe independently. My SureHands® sales representative has always responded really fast whenever I had a question or when I wanted my battery charger moved. He gets things done quickly and ­efficiently and has always given me peace of mind. I'm so grateful that I can still be home alone because of my lift.
Recently we moved to a warm and sunny climate and my lift moved with me. I could not live without it. I now also have a SureHands® pool lift at my new home, and oh how I enjoy relaxing in the pool.
I feel like a bird that's been let out of its cage.