Active hoist (model 1620)
Quickly lifts to a standing position - ideal for toileting
An outstanding aid for daily care.
The lower body remains free, so the caregiver can easily undress or dress the user.
Supports in an upright position.
Compact and manoeuvrable in confined spaces
Equipped with a built-in battery charger and replaceable battery pack.
Active hoist (model 1620)
Users who, because of reduced muscle tone, have difficulty ingetting up from a sitting position can quickly and easily go tothe toilet thanks to the stand-assist.
Support and balance
The user's feet are placed onto the footboard of the active hoist while the user is in a seated position. During lifting and moving the user's lower legs are supported by the adjustable knee pad. The knee pad helps to keep the body in balance during lifting and standing.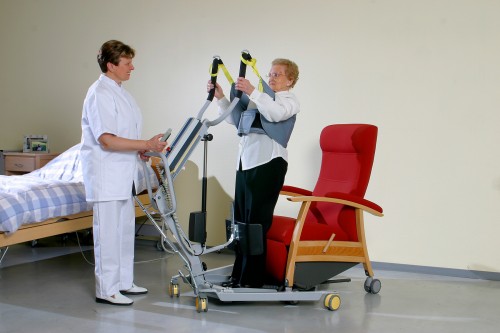 Compact and manoeuverable in small rooms
The active hoist is easy to manoeuver in tight spaces because of the short base length. The base is also adjustable in width to go around wheelchairs or geriatric chairs. It is precisely because of its compact design and features that the active hoist is ideal for transfers in small rooms such as bathrooms and toilets.
Removable and exchangeable battery holder with charger
The active hoist is operated by a battery located in an exchangeable battery holder incorporated into the device. The battery section of this assembly is removable from the charger so that it can be easily exchanged with a freshly charged battery. Or, it can remain on the unit for charging when not in use. An LCD screen indicates when the battery requires charging. A fully charged battery can carry out 40 lifts.For those who use the active hoist continuously a removable battery pack is ideal: while you are using one battery the other is being charged.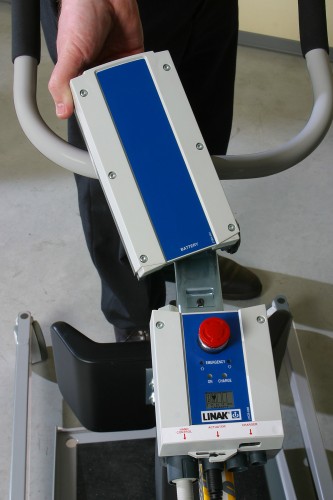 The lower body remains free
The big advantage of the active hoist is that the lower body remains free so that lower body clothing can be removed without difficulty. With the help of a sling supporting the back and under the arms the user is lifted into a standing position. The sling is fitted quickly and easily without placing
too much pressure on the shoulders. The system is designed to support the body as much as possible, without overloading the shoulder line.
The active hoist is also an excellent aid when dealing with incontinent patients.